A few leaves in the lobby, dust on houseplants, a fingerprint on the window–these are the hotel cleaning details that determine whether hotel guests feel like they've found a comfortable place to stay. This first impression is decisive.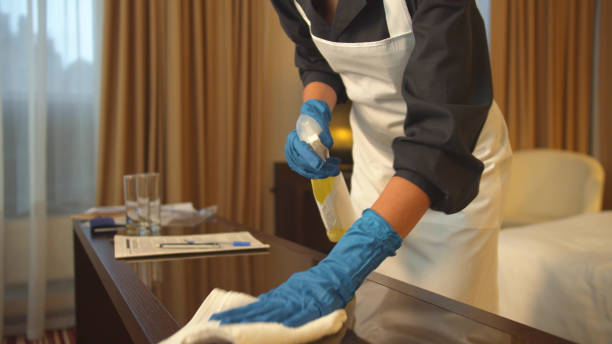 Parking
.
Whether traveling on business or on vacation, often the first thing guests do when they arrive is parked their car. We should remove dirt and dust from the parking lot and lobby. using walk-behind manual sweepers or ride on sweepers, depending on their size. SCS Group recommends using a cordless leaf blower to help remove leaves in the fall. They are easy to operate and generate low noise levels that will not disturb hotel guests. If a company also has green spaces, an expert must regularly maintain these.
Reception
Carpets are very common and frequent at the entrance of hotels. We can clean them with an electric broom or upright brush vacuum to keep them spotless. When the weather turns humid, we can also use a wet and dry vacuum for occasional cleaning. Hotels have carpeted hallways that can be kept clean with an upright brush-type vacuum.
Check-in
With hygiene and preventing the spread of germs, it is the reception area that plays the most important role. It is convenient to offer guests a disinfectant product at the reception desk. Multiple people should regularly clean and disinfect surfaces that come into contact with multiple people. If an additional cleaning detergent is used, it should not be highly alkaline or acidic. For hotel staff, we should also check the area behind the counter for anything that might be relevant during shift changes.
Hallways
Depending on their size, hotels can have miles of corridors, which are often lined with carpet. To save time and effort when cleaning them, SCS Group Integrated Services recommends the use of upright vacuum cleaners. We can use scrubber driers like those used in the lobby for other floor coverings as they are suitable for the size and condition of these areas.
Ladders
On stairs, carpeted floors, resilient flooring or stone floors can also be kept clean with user-friendly, battery-powered backpack vacuum cleaners. Its main advantages are that there is no danger of tripping over a cable and that unnecessary routes to and from the last or next socket are a thing of the past. An alternative that has recently been launched on the market is a mini scrubber, which allows quick and ergonomic work. Depending on the time of day, if foot traffic is high, we recommend cleaning and disinfecting stair railings regularly.
Elevators
Because of their limited space and frequent use, elevators are a difficult area. All contact surfaces should be cleaned and disinfected several times a day. I can clean carpets with a cordless vacuum to remove dirt, while we can clean quickly other floor coverings and efficiently use large area cleaning equipment. If we equip the elevator with glass or mirrors, we should thoroughly clean these surfaces with a professional glass cleaner . These absorb water after cleaning, thus preventing water splashes from creating a slip hazard or leaving behind messes.
To avoid the transfer of germs, we recommend it identifying cleaning tools with certain colors depending on the type of cleaning: blue for surfaces, yellow, for bathrooms, red for urinals and toilets, and green for disinfection.
Rooms
Daily maintenance cleaning is done under time pressure; therefore, it is even more important to ensure that it is a systematic process that will create a comforting and comfortable environment for hotel guests. Beds are usually freshly made and surfaces in the bedroom and bathroom are cleaned afterward. This process usually involves two techniques. The first, the color method, helps staff avoid transferring germs from one place to another: blue is used for surfaces, yellow is used for restrooms (sinks and red color is used for showers), the red color is used for urinals and toilets, and the green color is used for disinfection applications.
The second useful working technique is the 16-fold method for sheets, which is much more ergonomic for hotel staff than carrying heavy buckets of water. The cleaning cloth is folded in half three times (once down and twice to the side) so that there are 16 sides. In a bucket, we soak a precisely defined number of folded clothes with a specific amount of cleaning detergent. They are fully soaked and then ready for use. Next, the hotel staff cleans each surface with a fresh side. Once all sides have been used, the employee throws away the fabric and uses a new one. Once surfaces are cleaned, we can also disinfect contact surfaces.
The floor covering in hotel rooms is usually a carpet; can be cleaned quickly and effectively with a brush-type upright vacuum. We can remove small stains with a stain remover product. Here it is important to work from the outside so as not to spread the stain. If a room is unoccupied for a couple of days, the washer-vacuum cleaning method can also remove stains. It takes between 6 to 8 hrs to dry.
Floors
Hotels that use the mechanical power of walk-behind scrubber drivers or single-disc polishers to keep floors clean for longer can avoid the need for additional disinfection work. In order to achieve the desired professional cleaning result causing no damage, it is very important to choose the right brushes or pads for the machines. Tiles with a coarse structure scrub especially well with the use of deep roller brushes, while tiles with a finer structure require microfiber rollers. In smaller rooms, we can use a small pressure washer with a cup foam lance or a large surface cleaning machine for manual cleaning.
To deep clean walls or loungers, a steam cleaner may be the ideal solution, depending on the space available. A combination of plush, lint-free cloths and a large floor nozzle allow for effective cleaning of larger areas.